What Happens During the Winter Months at the Idaho Rocky Mountain Ranch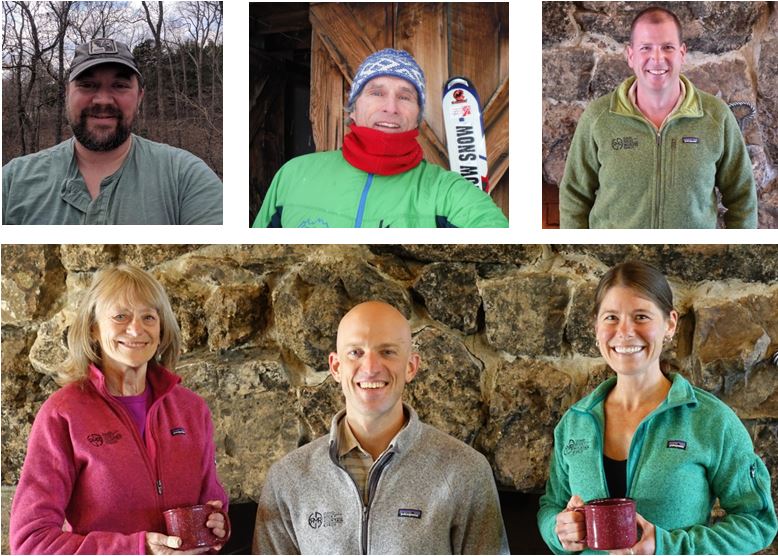 The owners and staff of the Idaho Rocky Mountain Ranch wish everyone a Happy New Year and a 2017 full of adventure, relaxation, friends and family.
We're frequently asked what goes on and what is our staff up to at the Ranch during the winter?   Here's a look:
Ranch Co-Managers Bill Leavell and Jeff Ballas and Office Manager Erica Cole live on the lower Ranch year-round.  Chef Clint McCann, Lodge Manager Sandra Beckwith and Assistant Will Knox live offsite while handling their winter Ranch responsibilities.
After holiday travel to spend time with family, Bill plans to recreate "skiing and then…. more skiing, backcountry skiing in the Sawtooth and Boulder Mountains" while managing the Ranch Pavilion Project, ranch barn renovation finishing touches, taking care of the 2017 budget, plowing lots of snow, and doing some mountain bike maintenance.
"During the winter I love the skiing, wildlife viewing, the quiet crystalline mornings, log stove fires in the evening, star gazing from the hot springs and my grandchildren playing in the snow."
Jeff Ballas will spend the winter helping Joe Lamb with the Pavilion, working in the cabins, lodge rooms and Ranch housing, as well as plowing snow, and occasionally, pulling motorists' vehicles out of snow banks.
Jeff describes the Ranch in winter as "quiet and peaceful, with spectacular wildlife viewing. There are many local community events to help and participate in, which is a great part of Stanley, Idaho life."
Erica is in the Ranch office, greeting all phone and in-person visitors, making reservations, helping guests plan their visits, interviewing prospective summer employees and doing a host of other things to keep the Ranch program in top shape.  Cross-country skiing at Park Creek and Alturas Lake trails occupy her recreation time. "I do love the snow, hot springs pool and the front porch view in the winter at the ranch."
Chef Clint McCann spent the holidays with his parents in Branson, Missouri and prepared a Christmas dinner that included oyster stuffing. Prior to the holidays, he was in Springfield, Louisiana helping his family to rebuild his grandparents' home that was obliterated along with thousands of others in an August 2016 flood.  Clint's winter work includes hiring his summer kitchen and planning for the summer, an important part of which is visiting great food venues.
"In the fall I went on a BBQ safari to the best BBQ places in the country from Austin to South Carolina researching BBQ.  At the Franklin BBQ in Austin, Texas where a line of 300 people typically is there waiting for their daily opening, I was #7 in line."
Current winter travel plans include his annual birthday trip with father and grandfather, this year to Ashville, North Carolina and Charleston, South Carolina Clint will return to the Ranch in time for steelhead season, and of course, the summer.
Sandra Beckwith spent her holidays in Colorado and San Francisco with kids, grandkids and friends, and now is working from her winter home in California's Mojave Desert.  Her winter Ranch work includes interviewing for summer employees, doing pr, working on the budget and planning for summer.  The spectacular desert sunrises and sunsets "rival and remind me of those at the ranch," she says.  Her most vivid and fond memories of the winters she spent at the Ranch were of,  "the light glistening on the snow, the Jack Frost painting on each needle and branch of every tree, cross-country skiing and relaxing in front of a cozy fire looking out onto a scenic snowscape."
Will Knox, after a pre-holiday trip to San Diego to visit family and enjoy some time near the ocean, spent Christmas in Boise with friends enjoying a nice feast and a wintry hike.  This winter he's working on the Pavilion massage and retreat program, assisting with hiring for the summer, and posting on Ranch social media.
"My favorite thing about the ranch in the winter is the environment  — the glistening snow, sunny blue skies, crisp clean air and the peaceful silence."
Off-site or on the Ranch, we're busy getting things ready for your summer visit.   If you're curious about the Pavilion mentioned above, stay tuned!  We look forward to seeing you this summer.
Blog written by Sandra Beckwith