In addition to abundant outdoor recreation, the area surrounding the Ranch is rich in opportunity to explore western natural and cultural history, and current attractions. Visits to local natural hot springs, museums, ghost towns, as well as scenic flights, walking tours, scenic drives, shopping in Stanley's local establishments and nearby Sun Valley, Idaho, and a massage to soothe any adventure aches all are available for you to enjoy.
Must-See in Stanley
SIHA, the Sawtooth Interpretive and Historical Association and Redfish Visitor Center have fun and informative displays and photos of the natural and cultural history of the area, knowledgeable staff to answer your questions, and a weekly lecture series. The Pioneer Cabin in Stanley Park, the Doc Day Cabin, Indian Rock Shelter at Redfish Lake, and Pole Creek Ranger Station also provide a glimpse of the area's history.
The Sawtooth Fish Hatchery conducts guided tours daily – a fascinating look at the work they do, and the historic and contemporary importance of salmon to our region.
A walking tour of Stanley allows you to take in the amazing views as you stroll through visiting points of historic interest, as well as our town's current shops and offerings.
There are several natural hot springs close by whose locations the locals like to guard zealously, but nature gives them away! As you drive and stroll, keep on the lookout for rising steam.
Redfish Lake is our local "mountain beach scene" for swimming, kayaking, paddle or motor boating, and good old-fashioned sand play.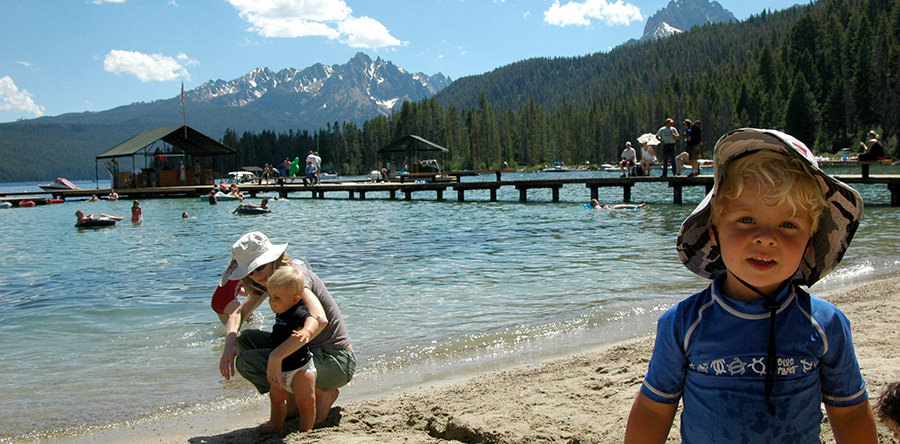 Museums and Ghost Towns
Follow the Salmon River north to the historic Sunbeam Bathhouse and Hot Springs, to the Yankee Fork and Sunbeam Dam, and beyond to ghost towns Bonanza and Custer, and the Yankee Fork Dredge for a keen look into the history of the region, and a sense of the rugged individuals who settled it. Closer to the Ranch, Sawtooth City and Vienna, though unrestored, stand as similar testament.
If you venture farther on the old stagecoach road, The Custer Motorway Adventure Road, to Challis, be sure to stop at the Land of the Yankee Fork Interpretive Center and Bayhorse on your way back to the Ranch.
Scenic Drives
Even the shortest drive provides incomparable views and photo opportunities, but there are several we highly recommend if you choose to road-trip in the Valley. Basin Butte Lookout, Cape Horn Guard Station Loop, the Decker Flat Road (FS Road 210), a trip to Galena Summit and the Headwaters of the Salmon River, Kelly Creek Road, Nip and Tuck Road, Pole Creek Lookout, and Valley Road all provide magnificent scenery and a chance to view local wildlife. There also are three designated scenic byways through the valley: the Ponderosa Pine, Salmon River, and Sawtooth.
Walking Tours
In addition to a stroll through Stanley, a walk though Sun Valley, Ketchum, Hailey, and Challis provides more history – and shopping. And while in Sun Valley, a visit to the outdoor ice skating rink, for watching or skating, provides a novel summer pleasure.